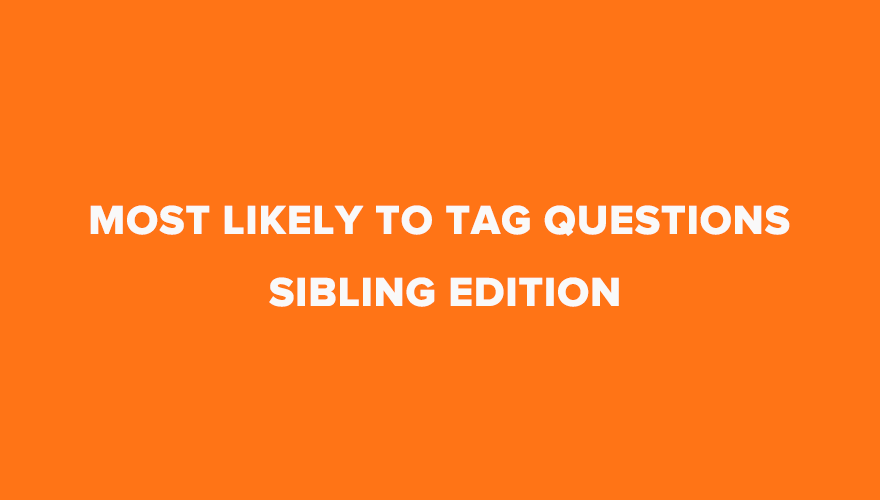 Siblings are the great blessing to have in one's life. No?
Why not have fun with your sibling and ask them these most likely to questions?
These are few questions which you can answer by making a video or simply writing a blog post and even just with your sister or brother you can answer them.
You might come across most likely to questions all around the web but this one is specially dedicated to sibling edition. We've added some great questions that are much more likely you'd love to enjoy.
So go ahead and ask these tag questions to your brother or sister.

35 Most likely To Tag Questions – Sibling Edition
Who's most likely to…
Forget birthdays or anniversaries
Be close to parents
Be sleepy
Be inpatient
Fall whilst walking
Laugh at the wrong moment
Be a flirt
Get married first
Marry a celebrity
Listen to classical music
Always be happy
Be a fan of Star Wars
Skydive
Have kids first
Have an ugly date to prom
Have a rich husband
Be successful
Accidental kill someone
Spend all their money on something stupid
Get a stalker
Cry in a sad movie
Talk to animals
Be a drama queen
Be a good cook
Sing in the shower
Be hungry 24/7
Fall in love
Drop their phone after they bought them
Hold their breath the longest
Have the most piercings
Give all their money to charity
Ask stupid questions
Take more selfies
Be the best at math
Worry about small things
(Source: Yahoo answers, Tumblr, Internet)
What's next? Let's take a look at some really funny and cool most likely to youtube video tags from our popular youtubers. This is to give you some idea how to do your next most likely to tag with your sibling like brother or sister.
Have a great time with your love one! Don't forget to share the video with us 😉