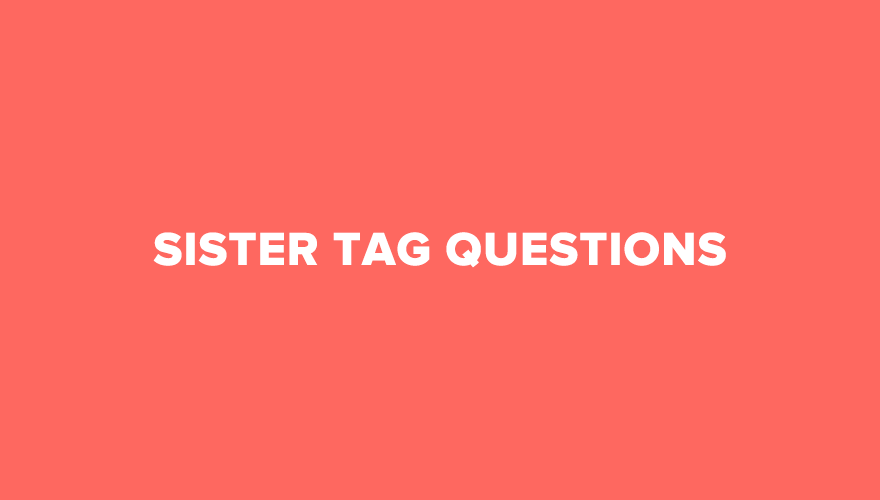 Looking for sister tag questions to make a video and have some fun with your lovely sister(s)?
Well, we've create this complete list of the best sister tag questions which you can ask your sister to get to know about each other like never before.
It doesn't matter if what age group you or your sister belong to, you can still play this sibling tag questions game. Remember age is just a number.
So, have fun. Enjoy these questions with your sister and make a tag video.
Don't forget to share with us in comments once you're done. 😉
The List Of Sister Tag Questions
Who is the youngest/oldest among you?
What do you like about your sister?
What do you hate about your sister?
What annoys you most about your sister?
What do your and you have in common?
What's your funniest memory together?
What do you (sisters) do for fun?
Describe your sister in just three words.
What's your nickname family call?
Who room is a mess?
What's your sister's favorite game to play?
What is your sister's favorite food/drink?
What does your sister think about the most?
Who reads more?
What is the thing you'd love to do together?
Who is the most talented?
What's your favorite makeup brand?
What is your sister really bad at?
What is your sister really good at?
Who love cooking and makes delicious items?
What's the best thing about you each another?
Who takes longer to get ready in the morning?
Who likes heels or flats?
Are you both close?
Who's hot? 😉
One thing you can do which your sister can't?
What's a weird habit of your sister?
What was your biggest fight?
Describe the last thing you did with your sister.
Complete this statement: "My sister is…"
Enjoy asking these tag questions to your sister and have some great fun knowing more about each other and find out who has more in-depth details about you.
Now as promised, here are some of the really good youtube sister tag questions done. Take a look at them and enjoy watching these video tags questions.
This one is done by Zoella who is a famous youtuber.
This one is from Jacy and Kacy – they are so lovely!
And the last one is done by Haschak sisters.
Is there any sibling tag questions which you think shouldn't be on the list? Or if you want to add any more tag questions for sister or brother please feel free to leave us a comment down below.
We look forward in watching your video tag questions with your sister.
Have fun!